Contract Services
Specialising in mechanical vineyard management services, SJ Barnes is on hand to help all vineyard owners and managers achieve the very best from their crop, while also saving time and labour costs across a range of jobs.
Working closely with machinery and engineering firm, NP Seymour, over the years Sam has developed a rich understanding and knowledge of the most effective viticultural equipment and reliable specialist machinery brands on the market.
Recognising the opportunities for innovation and embracing new technologies, SJ Barnes benefits from a modern, up-to-date fleet of specialist vineyard machinery which is regularly serviced and updated.
In 2019, Sam Barnes became the first UK-based contractor to offer mechanical grape harvesting services to growers.
With services tailored to each grower's specific requirements, SJ Barnes can help with all mechanical viticulture needs including:
Canopy and herbicide spraying
Under vine cultivations, mechanical weeding and mowing
Alleyway establishment and drilling of cover crops
Fertiliser spreading
Subsoiling and soil care
Vine trimming and leaf stripping
Mechanical grape harvesting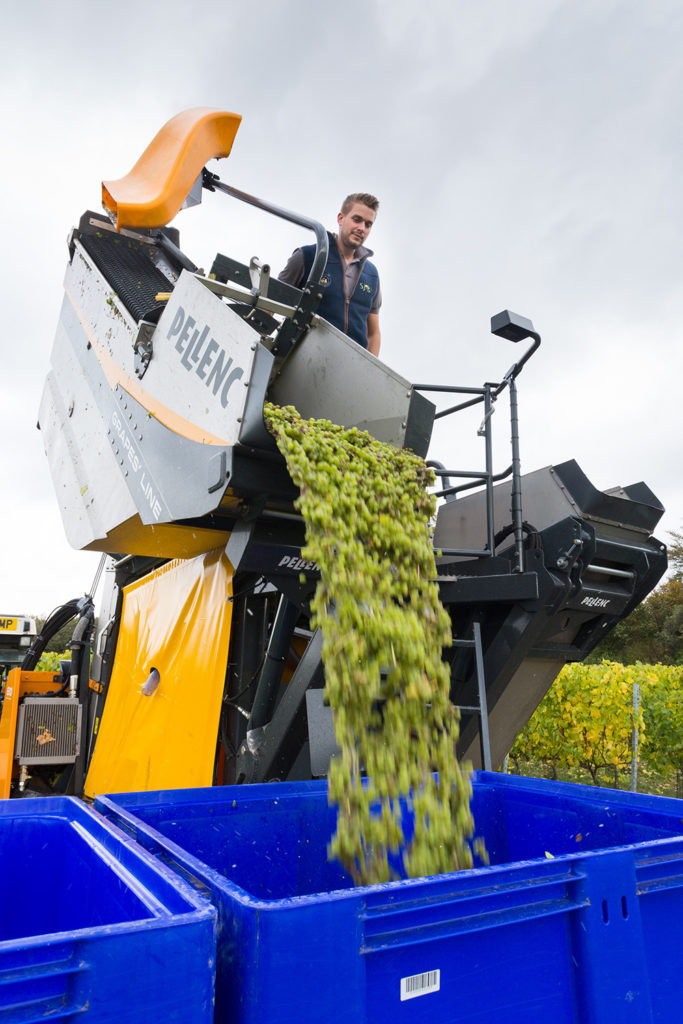 Vineyard Establishment
Alongside providing an extensive number of vineyard management services to growers in the South East, SJ Barnes is also one of the UK's leading suppliers of vines.
Working closely with two nurseries, Pépinières du Comtat in France and Rebschule Steinmann in Germany, Sam provides both newcomers to the industry and those expanding existing sites with a wide range of French and German varietals. Grafted to order, clients can choose from various clones, on a diverse selection of rootstocks.
Putting quality and traceability first, in 2016 Sam Barnes started working with France's largest nursery, Pépinières du Comtat, to ensure that growers in the UK could access high quality grafted vines, whose journey to the vineyard could be tracked right back to the specific rootstock plot, or bud site, they came from.
As well as advising on and supplying vines to growers nationwide, with a fleet of specialist machinery at his fingertips, Sam is also able to help customers prepare the land. In 2020 SJ Barnes invested in a sophisticated planting machine enabling Sam to complete the entire establishment process in-house, ensuring that the vines get the very best start in life. Finally, SJ Barnes can supply and install high quality trellis work from leading manufacturer Profil Alsace.
SJ Barnes Ltd can help with all your vineyard establishment needs including:
Vine supply
Ground preparations
Machine or hand planting
Trellis supply and installation